Grad Nite
Graduating Senior Grad Nite Event at Disney Resort
This year, the graduating seniors will be celebrating Grad Nite at Disneyland Resort, on June 13, 2020.
Students must meet graduation requirements in order to participate.
Updated forms and information will be available in January 2020.
For questions, email gradnite@eaglerockhsptsa.org
---
Culminating 8th Grade Grad Nite Event at Magic Mountain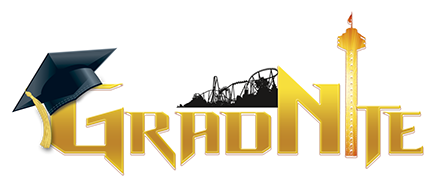 This year, the culminating Grade 8 students will be celebrating Grad Nite at Magic Mountain. More details will be available in October 2019.
---
Top Frequently Asked Questions:
Can I use my season ticket to attend Grad Nite? No, every participant must purchase a ticket specifically for the Grad Nite event.
Can I drive to the Grad Nite event, or can I be dropped off and/or picked up from the Grad Nite event? No, all participants must arrive to and depart from the Grad Nite event on the PTSA bus. Fact: Even though Disney Grad Nite is an overnight trip, it is not a sleepover trip. Again, all participants must depart to and from Disney on the PTSA bus.
Can I bring a friend? For the Disney Grad Nite event, seniors may bring a guest, as long as that guest also meets graduation requirements and the administrators from both schools approve his/her participation. For the Magic Mountain Grad Nite event, only ERHS 8th graders are allowed to attend.
What happens if I don't graduate/culminate and have already bought a ticket? Ticket purchase is final and non-refundable. A participant forfeits all rights to attending Grad Nite if s/he does not graduate or culminate. The participant cannot resell the ticket, either.
What types of payments are acceptable? We accept credit cards, apple pay, google pay and checks. Please make checks payable to Eagle Rock Jr./Sr. High PTSA.
For additional questions, please contact Karen Corrigan, Grad Nite chair, at gradnite@eaglerockhsptsa.org.