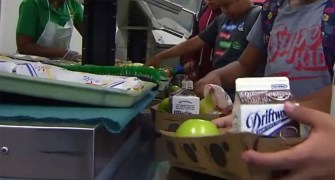 Published Jun 10, 2019 at 6:46 AM | Updated at 7:46 AM PDT on Jun 10, 2019 by NBC 4
The Los Angeles Unified School District will continue its Summer Food Service Program, providing free and nutritional meals to anyone between the ages of 1 and 18 years old without requiring them to participate in classes or recreational activities.
To find a location, people may call 211 or visit the Food Services page.
More than 80 percent of LAUSD students qualify for either free or reduced-price meals, said director Manish Singh.
"Summer meals are essential to the ongoing health and nutritional needs for our students," LAUSD Board Member George J. McKenna III said. "Our ability to deliver uninterrupted meal service when school is out underscores Los Angeles Unified's commitment to serving the whole child."